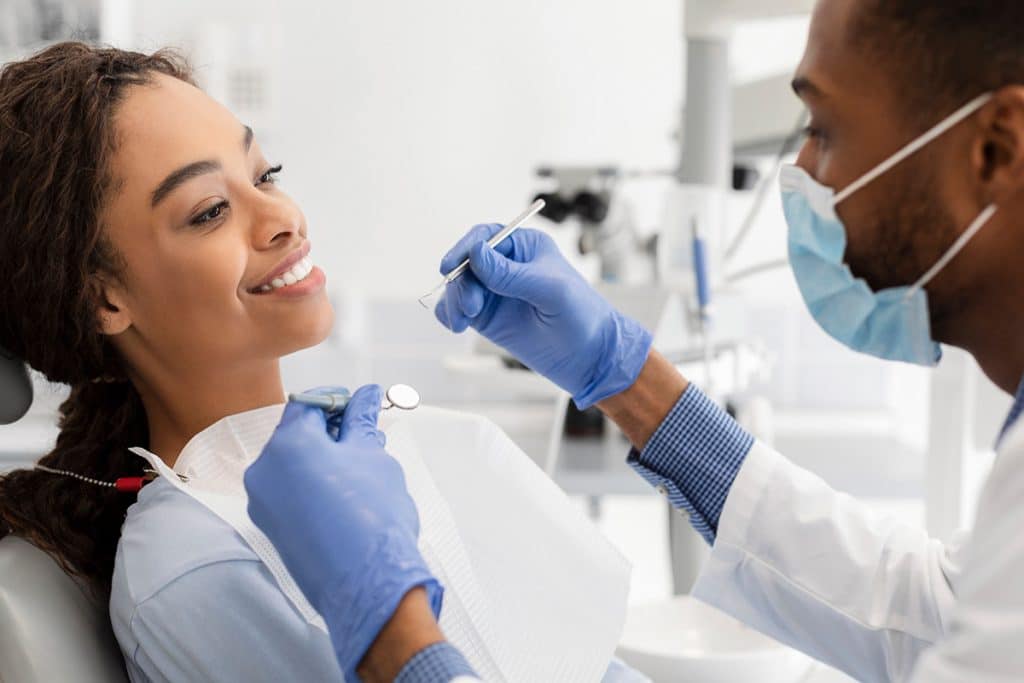 Can a Knocked Out Tooth be Saved?
If you've experienced a knocked-out tooth, there is a small window to potentially save the tooth. However, if you simultaneously experience any type of blow or trauma to the head or face, you must seek medical care first. Although a knocked-out tooth can be saved if immediate treatment is rendered, there are also a variety of restorative treatments that can restore your smile with a dental implant or dental bridge.
Getting Treatment for a Knocked Out Tooth
If you have had an adult, permanent tooth knocked out in a fall, bicycle accident, or other sporting accident, try to locate the tooth. Carefully pick up the tooth by the white part (crown), using caution to avoid touching the tooth root.  
If the tooth is dirty, rinse it under water, and attempt to guide it back into its socket.  You may need to use your tongue to hold the tooth in place. If your tooth doesn't fit easily in the socket, you may hold it inside your cheek or place it in a cup of milk while you make your way to the dentist.
Call your dentist immediately, and notify you that you are on the way. You typically have an hour or less to receive successful treatment.
If you can see a dentist within an hour, they will determine a treatment plan, depending on the condition of the tooth. In some cases, they may be able to place the tooth back in the socket and use stabilizing splints to hold it in place. A tooth that has been knocked out and is in pieces may not be able to be saved. 
If a child has a baby tooth knocked out, you should call your dentist before attempting to put the tooth back in the socket. In many cases, you will be advised to go to the dentist, but the tooth will not be reimplanted, as it may obstruct the eruption of a permanent tooth.
Restorative Dental Treatment Options to Replace a Knocked-Out Tooth 
You will not have to live with a gap in your smile if you lose a tooth. Two options are available to restore your smile.
Dental Bridge
A dental bridge fills a gap between one or more teeth by placing crowns on the adjacent teeth that hold a replacement tooth (called a pontic) in the gap. With good oral hygiene and regular dental care, your dental bridge can be expected to last 7 years or longer.
Dental Implants
Dental implants replace both the missing crown of the tooth and the tooth root. Dental implants also prevent the loss of jawbone, which is necessary to keep nearby teeth stable. Dental implants are surgically placed in the jawbone, restoring your smile and bite force.  With good oral hygiene habits and regular dental visits, a dental implant will last 20 years or longer.
Get Emergency Dental Treatment in Albuquerque
If you've experienced a knocked out tooth, or any other type of dental emergency, call the office of Dr. Brian K. Dennis immediately at 505-292-1051 for priority treatment. Dr. Dennis is one of New Mexico's most trusted, awarded, and recognized dentists. As a top-reviewed dentist on Google, Dr. Dentist is a past President of The Albuquerque District Dental Society. 
Recent Posts
Contact Us
Brian K, Dennis, DDS
8400 Osuna Rd. NE, Suite 6A
Albuquerque, NM 87111
Monday | 10am - 5pm
Tuesday | 7am - 2pm
Wednesday | 10am - 5pm
Thursday | 7am - 2pm
Friday | By Appointment
Saturday | Closed
Sunday | Closed