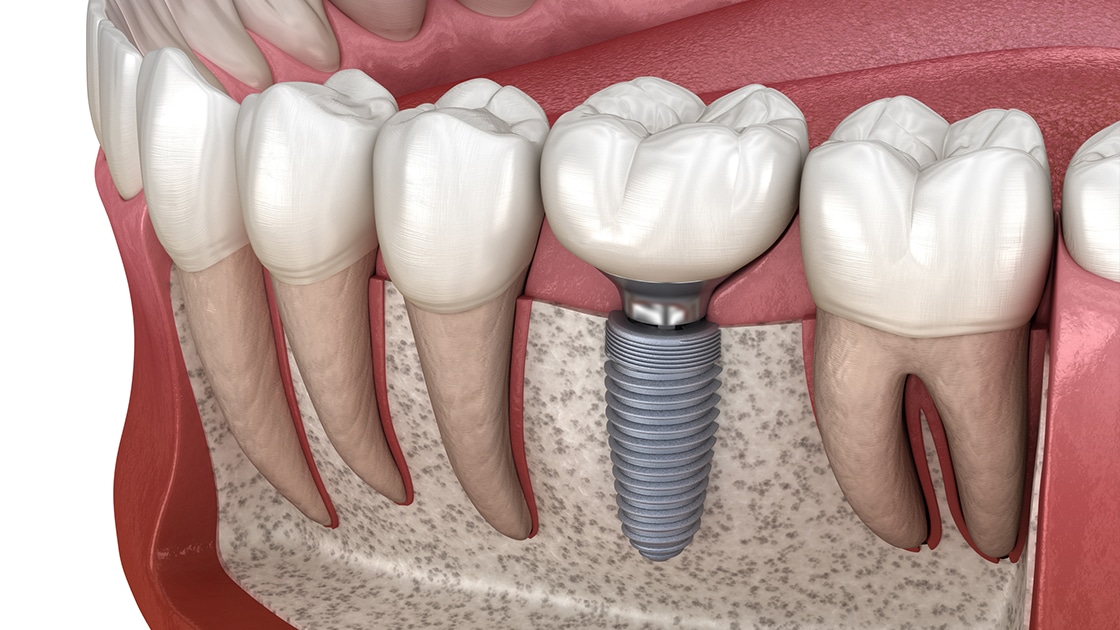 Dental implants are the best solution for missing teeth because they are the only option that replaces the root. This creates a stable foundation for replacement teeth and prevents bone loss in the jaw. When it comes to implants, experience matters. Dr. Dennis is a member of the American Academy of Implant Dentistry, has certification as a Master Clinician in Implant Dentistry, and attended a dental implant training program at the Global Institute for Dental Education and Loma Linda University. Our Albuquerque office uses the latest technology and surgical techniques to ensure successful outcomes for our patients.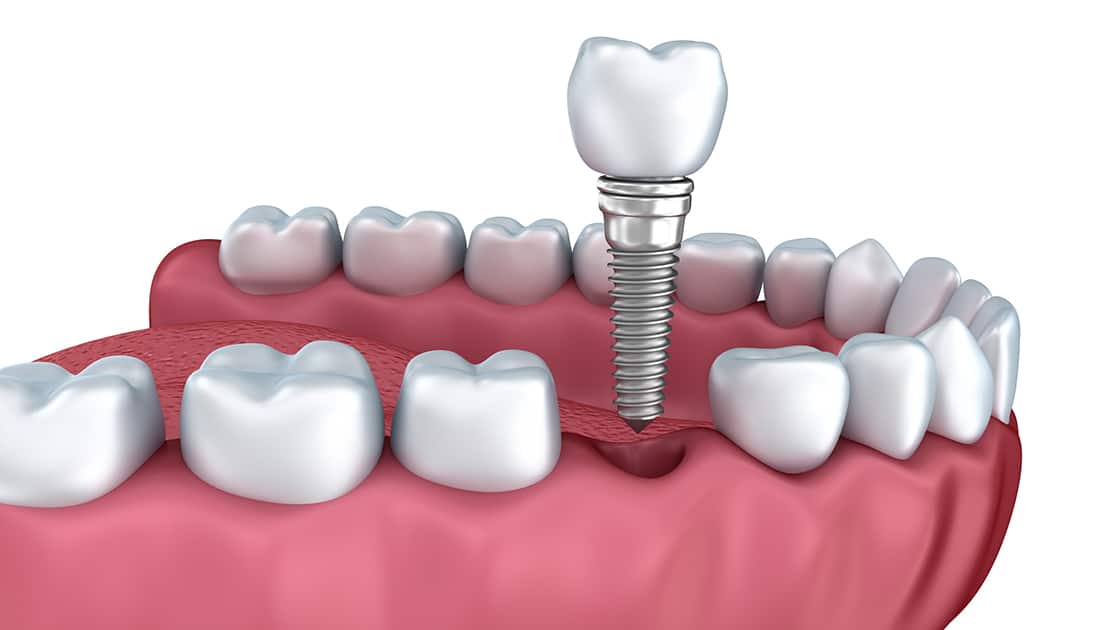 Single Dental Implant
The most common type of dental implant, a single tooth implant has three components: the implant itself (a small post or screw that is placed in the jawbone), the abutment, and a crown which is anchored by the abutment. This type of implant looks and functions very much like a natural tooth.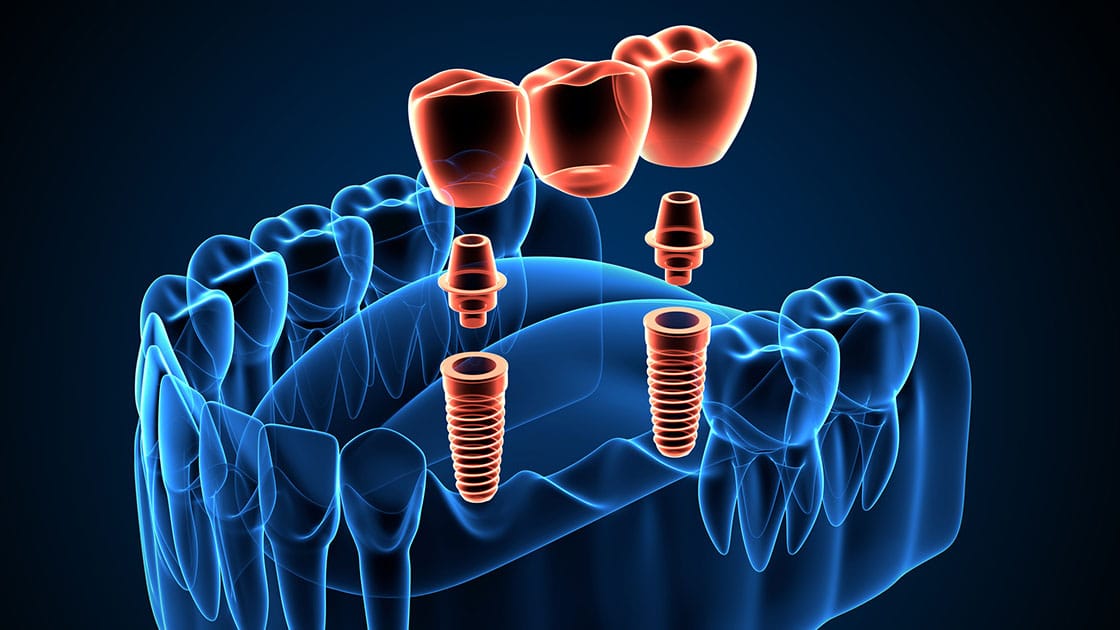 Implant Supported Bridges
When three or more adjacent teeth are missing, they can be replaced with an implant-supported bridge. Dental implants replace the two outermost missing teeth, with a porcelain bridge held between them. Implant-supported bridges are functional, aesthetic, and do not damage healthy teeth like traditional bridges.
Fully Edentulous (Toothless) Solutions

For patients missing many or all of their teeth, implant retained or implant supported dentures may be an alternative to traditional dentures. These solutions can simulate the look and feel of natural teeth and stay fixed in place with the implants acting as anchors. Using implants for retention or the support of dentures allows for a smaller and more comfortable base and less shifting of the prosthesis during use.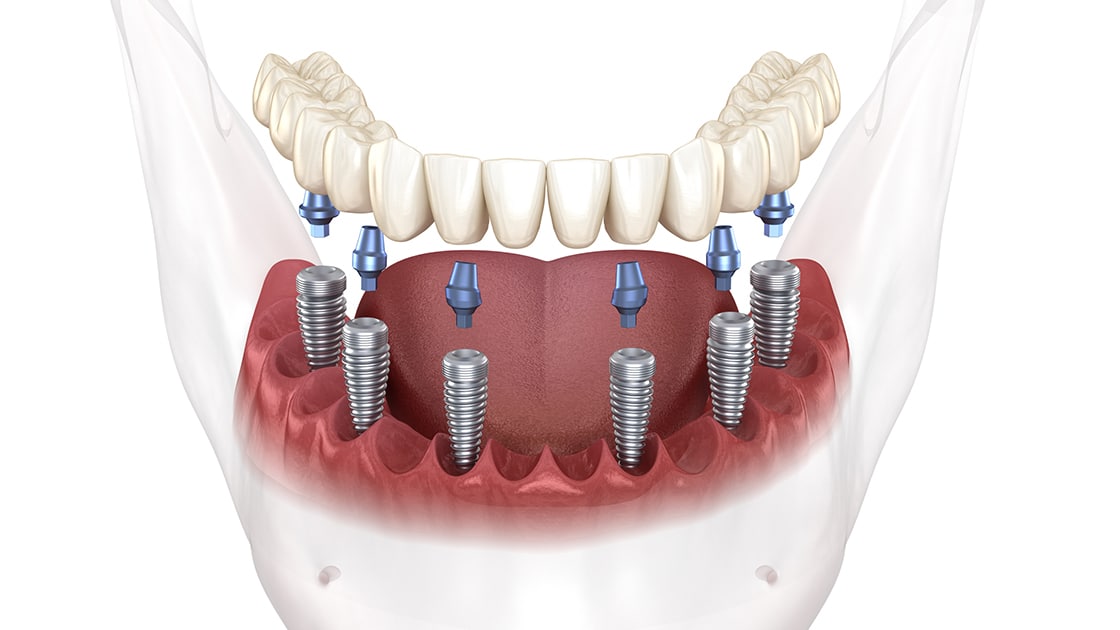 Implant Supported Dentures
Implant-supported dentures are a more natural alternative to traditional dentures for patients with sufficient jawbone density. For a partial denture, at least two dental implants are needed for support, while a full arch usually requires a minimum of four dental implants. These dentures can be fixed or removable (also known as "snap-on" dentures). Unlike traditional dentures, implant-supported dentures are not held in place by an adhesive but are instead anchored by dental implants, which means they shift less and cause less discomfort.
Learn More About Implant-Supported Dentures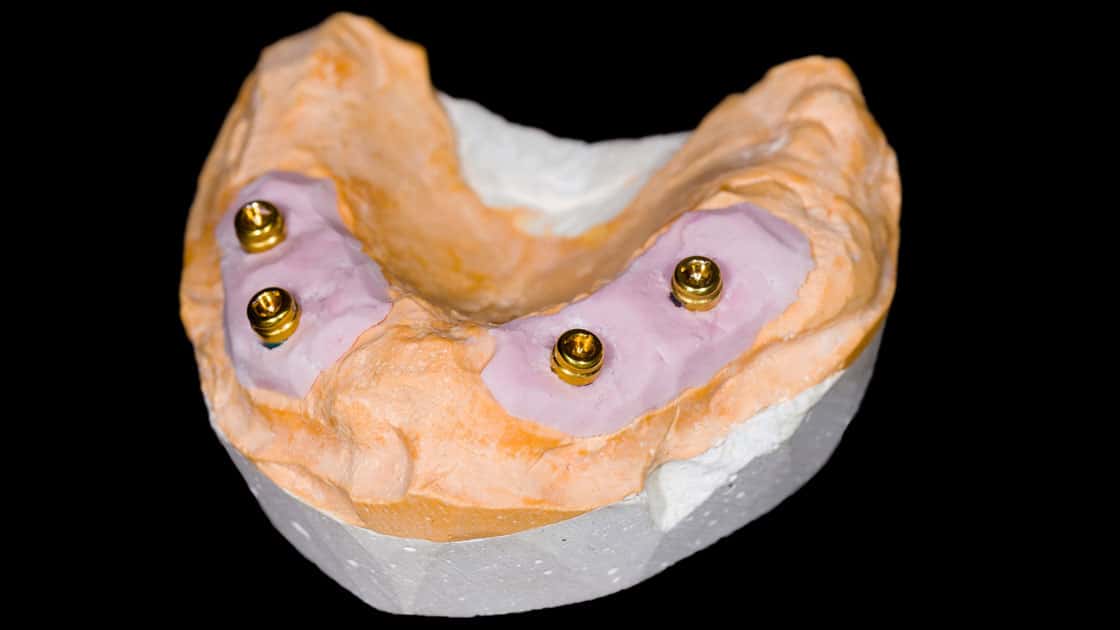 Full Arch With Only Four Implants
For patients who are missing all teeth on an upper or lower arch, this procedure uses four implants as anchors to support a full arch of replacement teeth.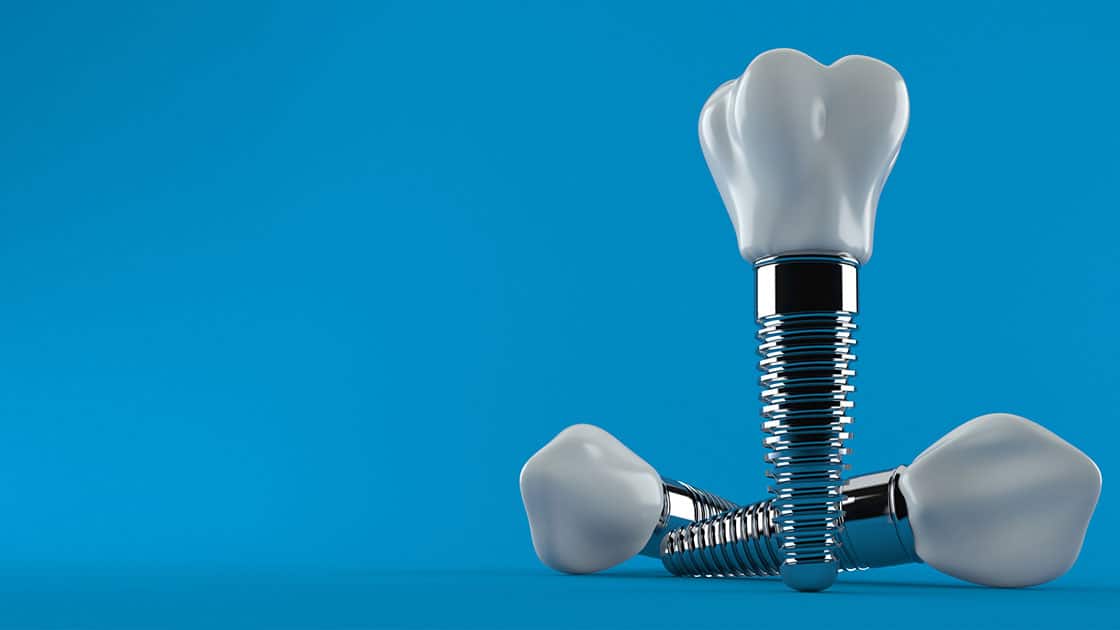 Guided Dental Implant Placement
Using 3D imaging guided implant placement is possible. Guided implant placement allows us to create customized surgical guides that direct the exact depth, location, and angle for each dental implant being placed. This technology results in better patient outcomes because of improved accuracy, safety, and predictability.
Frequently Asked Questions About Dental Implants
Can dental implants be done in one day?
Yes, there are some dental implant procedures that can be completed in a single day, although most implant-based restorations require a series of appointments. When you come in for a consultation, we will determine if you are a candidate for a same-day dental implant procedure.
Why are dental implants so expensive?
Dental implants cost more than dentures and bridges because dentures and bridges only replace the visible portion of your missing teeth. Dental implants also address tooth loss below the gum line by replacing the root, which means there are more costs involved. Both types of restorations include the cost of prosthetic teeth, but with dental implants you'll also need to pay for the implants themselves, the surgery to place them, additional imaging and surgical planning, and any preliminary procedures that are needed like extractions or bone grafting.
Are dental implants worth the money?
Yes, dental implants are well worth the cost. There's no other solution that looks, feels, and functions so much like natural teeth. In addition, dental implants prevent and even reverse bone loss in the jaw for a strong bite and more youthful appearance.
Local anesthetic is used to ensure that you experience no pain during your dental implant procedure. When this wears off, you'll have some tenderness at the surgical site, but this can usually be relieved with over-the-counter pain medication.
Can I replace all my teeth with implants?
Yes, an implant-supported denture or full arch with only four implants restoration can replace all of the teeth on both the upper and lower arches.
Looking for a dentist in the Albuquerque area? Contact us at
505-292-1051
to schedule an appointment today!