Brian K. Dennis, DDS PC is proud to provide top quality dental services to patients in Bernalillo, NM, including dental implants, Invisalign, TMJ treatment, and LightWalker Laser Aesthetics. Our office is conveniently located in Albuquerque, a short drive from Bernalillo, NM. 
Call us today to schedule your appointment!
Brian K, Dennis, DDS
8400 Osuna Rd. NE, Suite 6A
Albuquerque, NM 87111
Monday | 10am - 5pm
Tuesday | 7am - 2pm
Wednesday | 10am - 5pm
Thursday | 7am - 2pm
Friday | By Appointment
Saturday | Closed
Sunday | Closed
Request an Appointment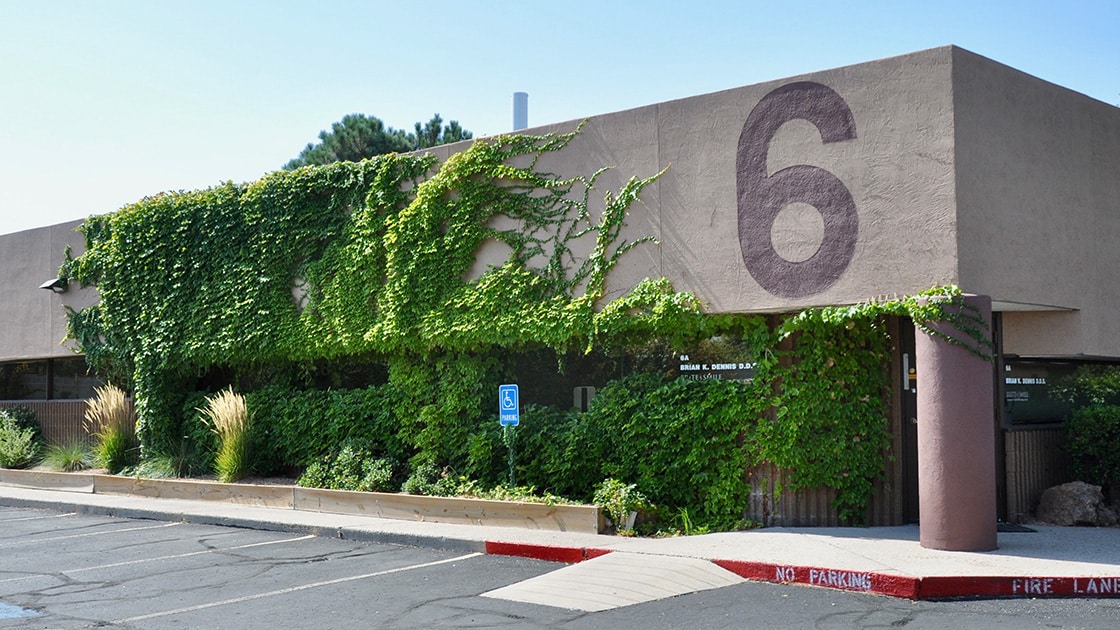 Dental Services We Provide
General Dentistry. Regular dental care is a must for protecting your oral and overall health. We offer various preventive and general dental services, including cleanings, exams, X-rays, root canals, and extractions.
Restorative Dentistry. We offer many restorative procedures to bring your teeth back to their full function. We provide composite dental fillings that match your teeth's natural color and shape, crowns that can restore chewing and speaking ability, inlays and onlays, bridges, implants, and dentures.
Cosmetic Dentistry. Dr. Dennis specializes in cosmetic dentistry. Using updated technology and practiced techniques, he creates aesthetically pleasing smiles. The dentist can use teeth whitening, Invisalign®, veneers, cosmetic bonding, and microabrasion individually or together to give you a beautiful smile makeover.
Dental Implants. Implants are today's preferred replacement for missing teeth. Easy to clean and care for, implants also prevent bone loss in the jaw. Implants can transform how you look and feel and make you want to smile again.
Invisalign®. Invisalign® is an advanced method for straightening teeth. It involves wearing comfortable, clear plastic aligners that gradually shift your teeth into position. The dentist changes these aligners every one to two weeks to keep your teeth moving. In most patients, Invisalign® provides faster results than traditional braces.
Treatment of TMJ Disorders. TMJ disorders can cause significant pain and reduce a patient's quality of life. We recommend various treatments depending on the patient's symptoms, from simple home care measures to custom oral appliances and surgery.
NIGHTLASE® Snoring Reduction. NIGHTLASE® uses a specialized laser to help with snoring and sleep apnea. The laser tightens the soft tissue that blocks the airway, leading to snoring and sleep apnea symptoms. The procedure is quick and requires no anesthesia.
Sedation Dentistry. Our practice offers nitrous oxide sedation with a local anesthetic. Nitrous oxide helps anxious patients feel comfortable and calm during procedures. The medication wears off quickly, meaning the patient can drive home and perform routine daily activities.
Facial Aesthetics. We also offer facial treatments like BOTOX® Cosmetic, dermal fillers, and Lightwalker® Laser Aesthetics.
Periodontal Procedures. Periodontal disease or gum disease affects many patients. When left unchecked, it can result in tooth loss. Our office provides a comprehensive periodontal treatment service, including scaling, root planing, periodontal splinting, crown lengthening, and pocket depth reduction, among many other procedures.
Pediatric Dentistry. Children need quality dental care starting at a very young age. Our office treats children with care and concern, helping them develop positive associations with the dentist and excellent oral care habits.
CEREC Same Day Restorations. Dr. Dennis can create crowns, bridges, and other restorations in one day. This process saves the patient time and increases their convenience. CEREC restorations are stronger and more durable than those from a dental lab.
You can rely on Dr. Brian Dennis for comprehensive dental care. While he specializes in cosmetic care, his advanced skills include many other dental disciplines. Dr. Dennis maintains a friendly, comfortable atmosphere for patients of all ages.
How should I care for my teeth at home?
Brush your teeth at least twice daily for two full minutes each time. Set a timer if that helps you complete the full two minutes. Use fluoride toothpaste. Floss at least once daily. You may want to use a fluoride mouth rinse as well. Attend all scheduled cleanings and exams.
Why do I need to have cleanings and exams twice a year?
Biannual dental exams and cleanings are a must to support your oral health. Your dentist will thoroughly examine your head, neck, and mouth for signs of abnormalities like oral cancer and emerging dental problems. The hygienist will carefully remove plaque and tartar from your teeth, reducing your chance of developing gum disease and tooth decay.
Can periodontal disease be prevented?
Periodontal disease is preventable. It starts with healthy gums. Proper brushing, flossing, and regular cleanings are the foundation of preventing gum disease. Gingivitis, the first stage of gum disease characterized by the gums bleeding when brushed or flossed, is reversible in most patients.
Directions from Bernalillo, NM
Get on I-25 S
Head northeast on S Camino Del Pueblo toward E Avenida Bernalillo
Turn right at the 1st cross street onto E Avenida Bernalillo
Turn right onto the ramp to I-25
Follow I-25 S to Pan American Fwy NE in Albuquerque. Take exit 231 from I-25 S
Merge onto I-25 S (signs for Interstate S)
Use the 2nd from the right lane to take exit 231 toward Ellison-San Antonio/Osuna
Take San Antonio Dr NE and Wyoming Blvd NE
Use the left lane to merge onto Pan American Fwy NE
Use the left 2 lanes to turn left onto Ellison St NE
Continue onto San Antonio Dr NE
Turn right onto Wyoming Blvd NE
Turn left onto Osuna Rd NE
Turn right
Turn right
Brian K. Dennis, DDS PC will be on the right
Call us today at 505-292-1051 to schedule your appointment!