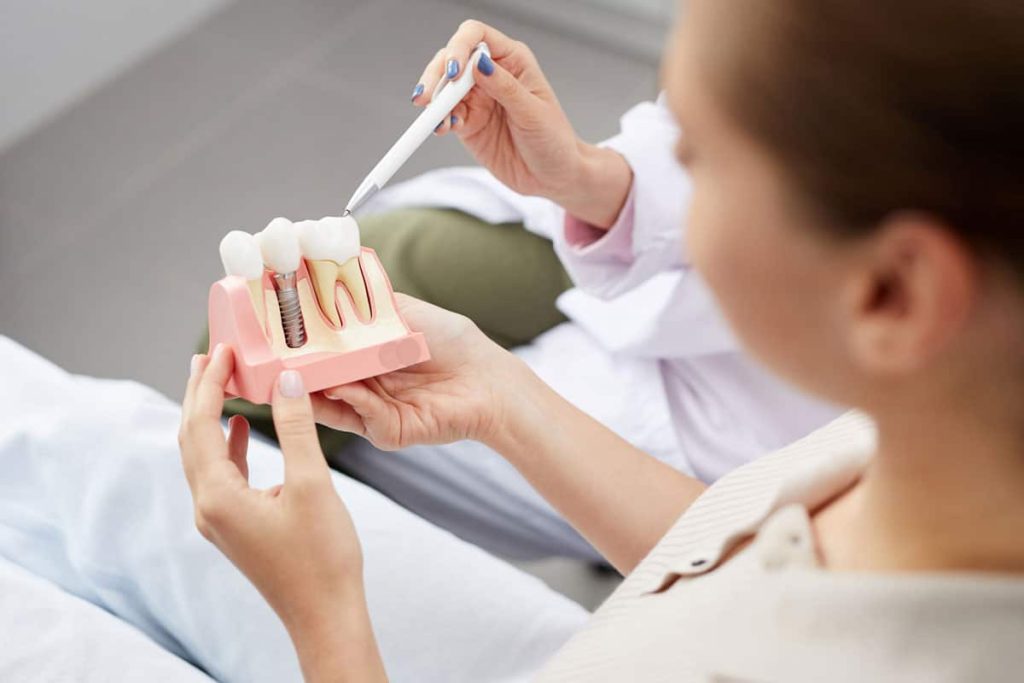 How Much Do Dental Implants Cost in Albuquerque?
Are you considering dental implants? When you need a tooth replaced, a dental implant is most likely the best option. A dental implant completely replaces a tooth and the root, looking and functioning just like your natural tooth. It's considered the gold standard of tooth replacement options. 
How much do dental implants cost in Albuquerque? It depends on a variety of factors, but here's an idea of what to expect.
Average Cost to Have a Single Tooth Replaced with an Implant
The average cost of a single dental implant is $3,000 to $4,500. The actual cost varies within this range based on the details of the situation. The basis for the cost of an implant is the quality of the materials and the complexity of the procedure. But once a dental implant is placed successfully, it will likely last for the rest of your life.
What Factors Are at Play in the Cost of an Implant?
There are a few different considerations that play a part in the cost of a dental implant and why the cost varies from patient to patient, such as:
Oral Health of the Patient.

Before placing a dental implant it is important for the dentist to evaluate your oral health. First of all, why did the tooth fall out? Is there gum disease involved? Or perhaps severe decay? Gum disease must be treated before an implant can be placed. A tooth that has been missing for a while, especially due to gum disease, may mean that the jaw bone is not healthy enough to support a dental implant. A bone graft procedure may be required first to strengthen and thicken the bone in preparation for a dental implant. This will add to the total cost. 

Geographic Location.

Where your dentist is located will affect the price of a dental implant because the cost of living in the area plays a part. Dentists in densely populated urban areas may set higher prices than dentists in smaller towns and rural areas, because the cost of operation of their practice is higher. Not everyone across the country will be quoted the same price for a dental implant. 

Number of Implants Needed.

The average price range is based on just one dental implant to replace a single tooth. Naturally, the more teeth you need to have replaced, the higher your cost will be. If you are in a situation where you need a large number of teeth replaced, it may be a more affordable option to get an implant supported bridge or dentures. Discuss your options with your dentist and determine what is the best course of treatment. 

Your Dentist's Level of Experience.

A more experienced dentist may charge more for dental implants because many patients are willing to pay for the services of a reputable, established dentist. Accuracy of placement is a key factor in the success of a dental implant, so choosing a dentist with plenty of experience is wise.

Your Insurance Coverage. Dental insurance does not always cover dental implants. But if you have insurance that does, it may cover a portion of your procedure, meaning you may be quoted a lower out of pocket cost.
Making Dental Implants Affordable
If you're concerned about the cost of dental implants, don't let it prevent you from getting the best possible tooth replacement option. There are ways to make it more affordable, such as financing. CareCredit is a financing option made just for out of pocket medical and dental costs. With no interest promotions and low monthly payments, you can make your dental implant more affordable.
Dr. Brian K. Dennis, DDS General and Cosmetic Dentistry
Are you looking for a dentist that offers affordable dental implants? Dr. Brian K. Dennis, DDS has years of experience placing dental implants successfully for many satisfied patients. If you're concerned about the cost, we offer a range of financing options so that you can get the very best tooth replacement option available. 
Call 505-292-1051 to schedule a consultation or request an appointment. We look forward to providing you with top quality dental care. 
Recent Posts
Contact Us
Brian K, Dennis, DDS
8400 Osuna Rd. NE, Suite 6A
Albuquerque, NM 87111
Monday | 10am - 5pm
Tuesday | 7am - 2pm
Wednesday | 10am - 5pm
Thursday | 7am - 2pm
Friday | By Appointment
Saturday | Closed
Sunday | Closed