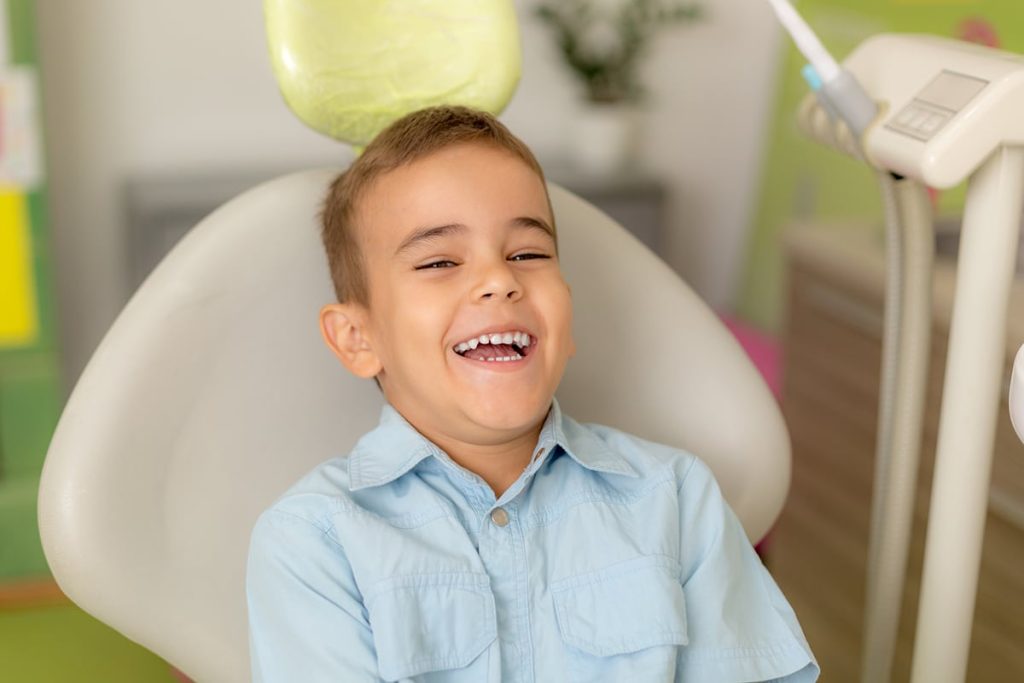 Is Fluoride Necessary For Kids?
Did you know that in the United States, most public water sources contain fluoride?  And this is done on purpose because it's proven to help with people's dental health.
When you drink fluoridated water, you are bathing your teeth every day in small amounts of fluoride to help reduce the risk of cavities developing. Fluoride is also used to reverse tooth decay in its early stages. What some people may not realize is that even if you drink water containing fluoride, and brush with fluoridated toothpaste, it's still necessary to go to the dentist for fluoride treatments – especially as a child.
Is fluoride necessary for kids?
First, let's review what fluoride is and how it works. Then we'll explain why it's an excellent choice to help boost you and your child's dental health.  
What is Fluoride?
Fluoride is a natural mineral found in several water supplies, food, and even the soil. When it comes to dentistry, this naturally occurring mineral is vital for reducing tooth decay. For children, it's critical to protect their teeth from cavities as teeth emerge and enamel develops.
Cavities are among the most common dental diseases in both children and adults. This is why fluoride is an important part of maintaining dental health for all ages. As the teeth soak in the fluoride, they block cavities by strengthening and resisting acid and bacteria.
What to Expect During Fluoride Treatment
Fluoride is one of the most helpful treatments for patients (especially children), and it's quick and painless. Plus, in most offices, the varnish is flavored for a satisfying taste!
Fluoride treatment begins with the dentist applying a thin layer to your teeth. Once applied, it sets into the teeth quickly, and treatment is complete! It's important not to eat or drink anything sticky or with artificial coloring. For example, if you eat Cheetos shortly after fluoride treatment, you risk the orange staining your teeth.
Do Kids Need Fluoride?
As previously mentioned, fluoride is proven to reduce tooth decay, especially in the early years as teeth grow and enamel develops.
However, whether fluoride is necessary for your child depends on a few factors. A child needs to come in for a dental check-up starting near their first birthday and at least every six months after. This allows the dentist to examine and monitor the development of the teeth and enamel and recommend fluoride if needed.
While it's in the best interest of the child to receive fluoride treatment in the office, at home is where most of the important work takes place. As a child, brushing daily with fluoride-based toothpaste is essential. However, assistance from parents is necessary as you don't want your child swallowing too much fluoride.
Start Fluoride Treatments Early
Maintaining good oral health means starting regular dental visits and treatments early in life, as well as good home care. Regular preventative care starting at an early age helps with the early detection and treatment of serious dental conditions. Fluoride treatment is just one way our team of experts helps combat cavities.When you and your child are ready to start preventing cavities with fluoride treatments, contact our office at 505-292-1051.
Recent Posts
Contact Us
Brian K, Dennis, DDS
8400 Osuna Rd. NE, Suite 6A
Albuquerque, NM 87111
Monday | 10am - 5pm
Tuesday | 7am - 2pm
Wednesday | 10am - 5pm
Thursday | 7am - 2pm
Friday | By Appointment
Saturday | Closed
Sunday | Closed